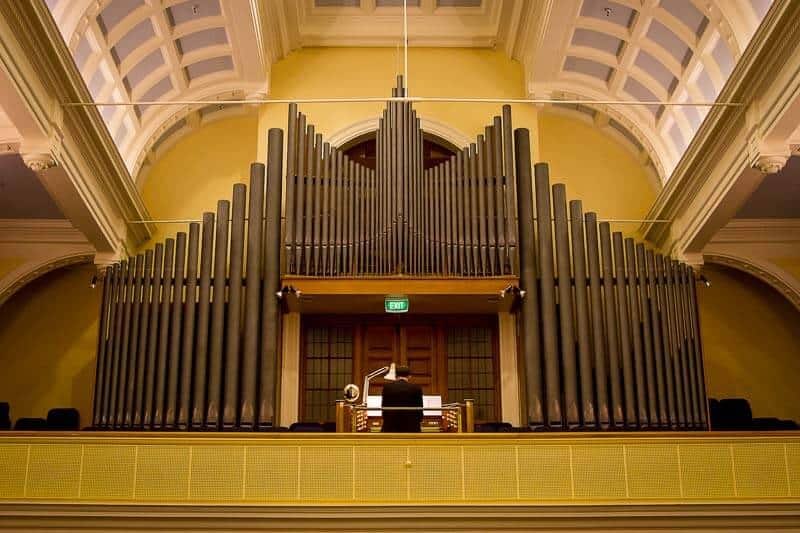 In May Dr. Richards spoke at an event to mark the restoration of a pipe organ built by Dr. Richards' uncle William Croft, at St Andrew's Church, Wellington.
For a note on the organ building company founded by Jack's grandfather, please read on:
George Croft and Son Ltd, organ builders
Jack Croft Richards*
My grandfather George Croft was born in London 1872 and arrived in New Zealand when his family immigrated in 1874, first settling in Christchurch. In 1887 the family moved to Petone, where George's father worked as a carpenter and building contractor. As a young man George worked with his father but also worked for the Gear Meat Factory as well as in a jam factory. During this time George became interested both in the organ as a musical instrument and also in the art of organ building. In 1891 he purchased his own premises in Petone and it was there at the age of 23 and as a part-time hobby that he started to build his first organ drawing on information he could find in books, a project that took four and a half years to complete. The organ he built attracted considerable attention when it was exhibited at the Wellington Industrial Exhibition of 1896 and received high praise from organists and musicians. A review at the time described is as containing "two complete manuals of 56 notes, CC to G, and independent pedal organ CCC to F, 30 notes" and used Totara, Rata, Rimu, Matai, and Kauri as the principal timber
After the exhibition the organ was taken back to the workshop in Petone for modifications made to suit an interested buyer. Unfortunately when George was away from the workshop it burnt down, destroying the organ as well as the stocks of timber as well as organ builder's tools and materials. Down but not defeated, George sold the land in Petone and relocated to Auckland. Wanting to continue with his efforts in organ building he traveled to London in 1900 to study the latest development in pneumatic organ actions. On his return he built his workshop and factory on the corner of Rendall Place and Eden Terrace, where built his second organ, a large 2 manual organ for Auckland's Choral Hall. The third Croft organ was built to order, for St Andrew's Anglican Church in Cambridge and was dedicated on 5th June 1899.
George Croft was now becoming well known in musical circles in Auckland. He was a foundation member of a small orchestra in Auckland in which he played the oboe. He also played the organ and the piano and was a member of the Auckland Choral Society.
Perhaps the most important point in George Croft's organ building career was a commission to build a new organ for St. Mary's Anglican Pro Cathedral in Auckland, which is still regarded as one of George Croft's finest instruments. By now George Croft had commenced a successful business and career as the builder of New Zealand's finest pipe organs. As children my siblings and I have fond memories of travelling from Gisborne to visit Nanna Isobel and Grandpa Croft in their substantial villa in 27 Shipherds Avenue in Epsom. My older brother David and I would sometimes be invited by Grandpa to tours around Auckland churches where we would sit at the console holding down the notes while he adjusted the pipe sleeves in the loft.
By the time of his death in November 1955 George Croft he had built sixty five new organs, to which his son William Croft added an additional 30. The following are some of the Croft organs found in the Wellington area and surroundings:
St Paul's, Lower Hutt 1965: St Augstine's, Petone 1903: St Mary's, Silversteam 1970: St Hilda's ,Upper Hutt 1960; St Joseph's ,Upper Hutt 1977: St David's, Petone 1906: St Patrick's, College Upper Hutt 1977: St John's ,Johnsonville 1970: St Mary's, Karori 1967:St Michael and all Angels. Kelburn 1927: St Barnabas's, Khandallah 1980: St Thomas's, Newtown 1982: St Barnabus's, Roseneath 1989: St Teeresa's, Karori 1972: St Vincnt de Paul, Kelburn 1960: St John's, Willis, st 1976
Both George and Bill Croft received numerous letters of thanks and praise from those who commissioned Croft organs: For example;
"I would like you to know what a magnificent instrument you have built for us. In every way our needs have been met, so that we now have an organ which suits all in tonal and organ design".  Warren Southward December 1965
"I write to congratulate you on the fine new instrument at St Phillips, truly a remarkable achievement. This organ has all the qualities expected by the most fastidious and discriminating of organists and it is most satisfying in every way from tonal build-up to console design." Richard Bothero January 1966
"Until my present visit to Palmerston North, I had not the slightest idea that an organ like this could be built in New Zealand. It has exceeded my expectationss one hundredfold …"  Dr. V.E. Galway, organist, Jan 23 1930.
George's son William Croft (Uncle Bill, 1914 – 2010) who built the St Andrew's organ, began work in the factory in 1929. The introduction to Auckland of Wurlitzer theatre organs in the late 1920s prompted the firm to build their first electronic action instrument in 1930. Introduction of electrification revolutionized organ building. Instead of literally thousands of hand-made wooden parts, electrical wiring meant the wholesale adoption of electromagnets and switches to control the keyboards and pedal boards, all the apparatus, for instance, which transforms an electrical impulse into wind for the pipes.
Bill Croft was a sound businessman and took the company – now known as George Croft and Son Ltd – into the 1950s and 1960s. This was a profitable period for the company, who now dominated the organ market in the North Island, and also secured a number of commissions in the South Island, with many new organs being built – many of them large 3 manuals for churches, schools, as well as private homes.
By the early 1960s the growth of the business required new premises and in 1966 Bill purchased a large piece of land in the growing industrial area of Avondale for the construction of new premises. By this time it was the largest organ building factory in the southern hemisphere and by 1968 employed 14 full time tradesmen and apprentices, and there was a waiting time of three years for a new organ. Although pipework was still being made in the UK, Croft organs were taking on a new sound, much praised by Peter Avery, the organist at St Andrews in Wellington at the time the Croft organ was built in 1962. At the time some fluework and reeds were still of English manufacture with metal flutes imported from Laukuff in West Germany- not withstanding the exceptional wood stops produced in the Croft factory at that time.
Bill had pioneered New Zealand's first quasi-classical instruments early in the 1960's with two unique organs built for Wellington churches – the present one at St Andrews and the other at St Mary of the Angels in Boulcott street. The latter instrument which contains some 1300 Pipes, was built virtually to the plans of organist Maxwell Fernie, who had been organist at Westminster Cathedral in London. Both the St Andrews and the St Marys' organs were two manual instruments, but had the innovation of a "floating" Mutation division, spotted metal pipework of classical scales and the introduction of French style reeds, although these were manufactured in England. The St Mary's organ as well as the St Andrew's organ were built by Bill Croft, assisted by his son Peter and craftsmen from Croft and Sons. All Croft organs were tailor-made to fit the dimensions and acoustics of each individual church, and each organ was built to last. The organ originally built in St Mary's Cathedral in Auckland in1906 needed virtually no changes apart from some enlargement and modification some 50years later..
In 1969 Bill Croft was looking to retirement and approached his son –Peter Croft- at that time a member of staff, and offered him the chance to carry on the business. However Peter declined his father's offer and Bill approached Ken Aplin, who together with Auckland organist Arthur Reid, purchased and continued the running of George Croft and Son Ltd. The company went on to greater heights with the securing of its largest contract – being the total rebuilding and enlargement of New Zealand's largest pipe organ in the Auckland Town Hall.
* These notes owe much to an account of George Croft's life by William Croft, an account by John W. Parker of a visit to Sydney by William Croft, and to correspondence and other documents provided by Bill's Croft's daughter, Marianne.